Jobs for Paws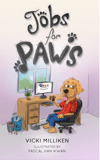 Gus the golden retriever thinks there must be more to life and sets out to find himself a job.
He's friendly, kind, reliable, trustworthy and a quick learner. Who wouldn't want to employ him? But he learns that finding a job to suit his natural talents is harder than he expected.
Join Gus on his search for the perfect job!
Reviews
"Jobs for Paws is a wonderful read for both young and old. The storyline is delightful and has some strong messages about life's challenges and pursuing your dreams. It demonstrates how if you persevere in the end you will get a reward. It also clearly outlines if you are willing to take a chance people will give you an opportunity to prove yourself. The illustrations are brilliant and descriptive. Thoroughly recommend this book. All good things come to those who persist." Kerry Lodge
"Jobs for Paws is a fantastic tale told from the perspective of Gus, the ambitious and adventurous golden retriever whose quest for a job has a few hiccups. The illustrations make the story come alive and enhance the humour. Plus, the cheeky seagull, Jena, who watches Gus like a hawk!" Lynne Georgiadis